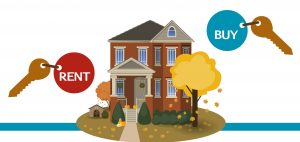 Most people growing up in America dream of owning a home one day. This is a matter of pride and the security of knowing they have a place of their own. But there are also a lot of other reasons for you to give up your rental. In addition to having more space, owning a home will give you a feeling of independence and the satisfaction that you've achieved something significant. Yes, homeownership represents a large investment, but one that pays off in many ways. Keep reading to see how:
Owning will likely cost you less each month: Rent is fast becoming unaffordable, often higher than what your mortgage would be for a comparable space. This is especially true since the interest on your mortgage is tax deductible as are your property taxes. A fixed-rate mortgage feels more secure than having to wonder how much your landlord might raise the rent.
Owning gets you more for your money: Rent may be a necessary expense, but when you own you are making an investment. You are building up equity with each passing year, so while it costs more up front to buy a home, it offers long-term value in return.
Owning provides stability to your life: When you rent, you are at the mercy of your landlord who can raise your rent, refuse to renew your lease and even sell the building. You are also subject to changes in the law regarding renters' rights. When you own, you have the security of living in a place that belongs to you. You're here until you decide it's time to move.
Owning gives you a tax write-off: The interest you're paying on your mortgage can be written off on your taxes. As a renter, the entire amount paid each month in rent goes to your landlord.
Owning gives you even more tax write-offs: You can also write off your property taxes when you're a homeowner. Again, your landlord is not getting the benefit of this either. In many areas there are also local tax benefits for homeowners.
Owning helps you build up a good credit history: Your credit rating is a major indicator of how financially responsible you are. Owning a home allows you to build up good credit. Who knows whether your landlord is reporting that you consistently pay your rent on time? If not, you can't use this to build up a good credit rating.
Owning allows you to put down roots: Renters move around more than homeowners, so they may not have a chance to establish solid roots in their neighborhood. Having a permanent place of your own is a source of price and gives you a feeling of belonging in your community.
Owning helps you build a nest egg for your retirement: If you're married you can file joint tax returns with your spouse. This allows you to make up to $500,000 tax free when you're ready to sell your primary residence, as long as you've lived there for at least two out of the previous five years. If you and your wife file separately or if you are single, you can make up to $250,000 tax free on the sale of your home. This can go a long way towards a secure retirement.
When you're finally ready to stop renting, reach out to a Certified Residential Specialist for help in finding the right home in a neighborhood where you'll feel comfortable for many years to come. With a plenty of experience in your area combined with a lot of advanced training, A CRS agent would be best equipped to help you through your first homebuying experience. It's especially important that you have more than an average Realtor when you're venturing into the world of real estate for the first time. You need the expertise of a Certified Residential Specialist.